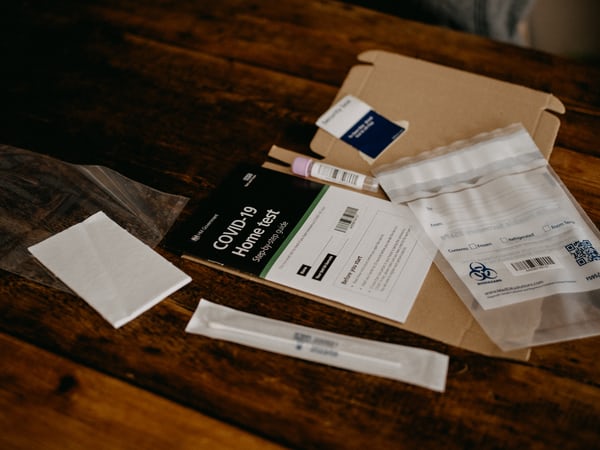 COVID-19 Lateral Flow Test Kits
COVID-19 Lateral Flow Test Kits
Our Covid-19 lateral flow test kits offer immediate results (within 15 minutes) offering a significant time and cost saving over lab methods. The cassette device is extremely easy to use and read with no specialist equipment needed. There is the choice of the Antigen test (Swab of the nose or throat) that returns either a positive or negative coronavirus result and the Antibody test (finger prick blood sample) that lets you know if you have or have had Covid-19 previously, even if you are asymptomatic.
Our 5 types of Panodyne testing devices have the ability to tell you if you have had Covid-19 and have developed antibodies to fight it (blue kit), if you currently have Covid-19 (green or orange kit), if the vaccine has been effective and is offering protection (dark blue kit) or can distinguish between having Covid-19 or Flu – if you have the Flu you do not have to self-isolate (purple kit). All of the Panodyne test kits are packed individually.
Our Healgen antigen (swab) kits show if you have Covid-19 and are packed in 20 tests per pack, and are one of only 3 test kits featured on the UK.Gov website.
All testing devices are CE Certified and are accurate up to 94.6% (no test including the Government laboratory tests offer 100% accurate detection of the virus) however a positive test result allows you to protect the health of people around you including your staff and customers.
We recommend you read the Official Government Guidance regarding SARS-COV-2 Lateral Flow Tests here.
Please note these tests are recommended for Professional Use only and users should watch the videos prior to taking the test for full usage instructions.
Attached please find out profile for Covid test kit, please see more details:
Saliva only

CE APPROVED

PRICE AT USD 3.5 

Storage requirement , temperature 2-8 C

PRODUCTION CAPACITY, 100 Million pieces per month

Deliver Schedule, first month 20 Million pieces, from second month 50 Million pieces and above. 
This is now very popular in Europe, goods arrived and sold immediately. People do the test by themselves with Saliva only. 
As from the news, the price in Europe was around 20 EUROS last month. 
I will get offical quotation for you from system is you are interested.